The Vineyards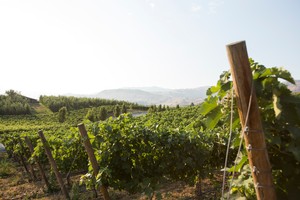 Dean and Heather began growing wine grapes 20 minutes north of the winery in 1998. The original plantings served as a test block experiement to narrow down the best varieties for the region and their winemaking program.
Rocky Mother
Our original estate block planted in 2004. It sits on 2.5 acres on the Neff family homestead in Pateros (a thirty minute drive north of the winery). This is the block that produces it's our annual release of it's namesake syrah. It is rocky, hot, and difficult ground which produces an out of this world meaty, earthy, deeply fruit driven monster of a wine.
Defiance
This is the seven acre block at the winery. It's the vines you drive through as your approach the tasting room and part of the view from the patio. Defiance is fifteen years old heading into this vintage producing the our viognier, malbec, and the majority of our syrah. This vineyard benefits from it's gentle slope to the lake and north facing aspect which provides just enough sun exposure throughout the growing season.
---